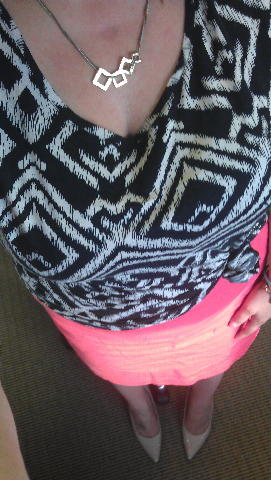 WEARING
Top | h&m
skirt | merona
heels | novo/thrifted
necklace | ebay
skull bracelet | ebay
spike bracelet | ebay
blue bracelet | unknown

As I shared with you all a few days ago, I'm headed to Florida on Tuesday. To Ft. Myers. During a hurricane. Brilliant timing, mother nature! Thanks a lot! Seriously, though....what a total bummer? All this shopping I've done & all of these great warm-weather pieces I've found might just go to waste. Suuuure, it'll probably still be nice & muggy out, but who wants to throw on a beautiful white floral dress just to get soaked? Not I. Ahhh well, I've got these super sexy high waisted black flowy shorts by Jennifer Lopez I'm excited to prance around in. Those will still come in handy, I'm sure.